Management of the water quality in Vietnamese coastal waters impacted by CLIMate change and human induced DISsters using a marine modelling tool (2019-2023, Belspo)
Management of the water quality in Vietnamese coastal waters impacted by CLIMate change and human induced DISasters using a marine modelling tool (2019-2023, Belspo)
CLIMDIS has been developed in collaboration with the Institute of Marine Environment and Resources (IMER) in Vietnam as a means to support the management and improve the water quality in the Vietnamese coastal waters, specifically in the Ha Long Bay (HLB), North Vietnam. 
Context
Exploiting the ecosystem services of the World Natural Heritage in the HLB to develop tourism has contributed greatly to the socioeconomic development of the region. However, along with the socio-economic development the water management of HLB became increasingly complicated. The water quality is rapidly declining; this reduces the attractiveness of HLB for tourists and threatens the sustainable development of the area. 
Initiative
In the CLIMDIS project a 3D hydrodynamic model, developed by the Ecological Modelling (ECOMOD) team at RBINS, is used as a base to develop a toolkit that can be used to assess, forecast and monitor the water quality of the bay and provide real time information on dispersal trends of organic pollutants. CLIMDIS makes use of the COHERENS modelling system that is available to the scientific community as a free and well-documented open source code.
Goal
A better understanding of the extent of the impact of pollutants and the effects of human activity and climate change on the water quality will help to better manage the health of the marine ecosystem of this area, to minimize the negative impact on the socioeconomic development of the region and to react adequately to rapid changes in the water and ecosystem quality of the region. All this serves the goals of sustainable development.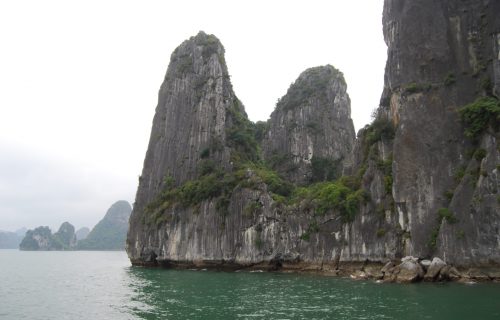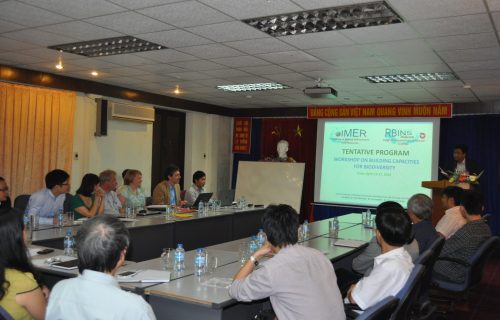 During a workshop organised by IMER and RBINS in April 2015 (Hai Phong, Vietnam) in the framework of CEBioS the participants identified eight main causes of the degradation of the HLB ecosystem:
habitat destruction (deforestation, dredging, dumping, coastal urbanisation), 
oil pollution, 
eutrophication (aquaculture, agriculture, tourism, industry), 
industrial continuous pollution, 
lack of integrated management, 
no enforcement of management, 
natural hazards
depletion of natural resources (overfishing). 
Population increase is believed to be a driving force, other primary driving forces are: natural hazards, climate change and the lack of a management plan integrated at all governmental levels and law enforcement. In the CLIMDIS project outline it becomes clear that cooperation with the managers/administrators of HLB has an important place and CEBioS is contributing to this aspect of the project such as to support and improve the management of this World Natural Heritage site's natural resources.